Green Acre Poms
http://www.puppyfind.com/for_sale/?breed_id=87&back=%2Fbrowse%2F%3Fstr%3Dp%26page%3D2
This link above is to our pomeranians for sale.
Favorite Sites
This site is for a close partner of ours in selling champion bloodline pomeranians.
These are our puppies for sale on puppyfind.com
This is our own new website.

Online marketplace.
Local sales.
Lots of information on pygmy goats!
Meeting Place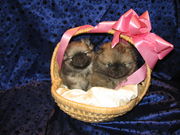 7 week old champion bloodline pomeranians for sale.
My favorite search engine.
A web site we are trying out to sell our puppies.
Searches search engines.
Register your puppies here and have them vet checked at an AKC approved vet for a 60 day warranty.
Have Fun!